My name is Dr. Claude Chauchard, I am a nutritionist formerly affiliated with the Montpellier Hospital. I am a writer and researcher specializing in anti-aging medicine. Over the past 40 years, nutritional science has made enormous progress due to the steady growth rate of obesity on a global scale, particularly in Western societies.
My goal is to serve you by giving you a healthy and balanced solution to lose weight quickly and change your lifestyle. In my private consultations, I have helped thousands of people to lose 5, 10, 20 pounds or more.*. Through my online program, I'll be able to assist even more people on the path to a new life, and let me say, that makes me really happy!
The Chrono-Geno-Nutrition Diet method is built on a series of principles that not only help you lose weight, but will also change your habits and lifestyle and maintain a balanced diet throughout your life.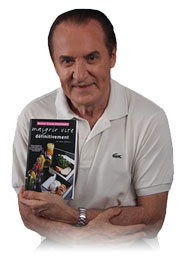 Our primary motivation when we start a weight loss program is the result on the scale. Weight loss even has a stimulating effect. The brain stimulates the secretion of dopamine, the neurotransmitter of happiness. This will give you all the motivation needed to succeed!
There are at least two aspects of my method that I know will interest you. They are the ones that will guarantee that you will have fun and stay on track despite the temptations that are all around you. First is the possibility to use "jokers" or wildcards, which are small allowable "cheats" once or twice a week. It's your safety net, so never get discouraged. Second is a "catch up" technique is immediately applied after you've had a meal that's a little too high in calories, which I describe in my program..
I encourage you to take action now by filling up the Free Diet Profile that I prepared for you. This is your first step towards your new life, and it's already a big step towards your weight loss goal.
Trust the Expert!

With Dr. Chauchard's guidance, you will be surprised how easy it is to lose weight with this method!
* Results are not guaranteed and would differ from individual to individual.